Matthew Brown
Line Cook / Dessert Inventor
Today we interview the ebullient Matthew Brown. Matt not only executes dishes led by our head chef Derrick Smith, he takes the lead on Fullsteam's ever-flexing dessert game (paw paw custard pie, brownie with Coffee Is For Closers caramel, and a Carolina Reaper ice cream).
F: You've been cooking for a long time. When did you start?
MB: I started cooking when I was very young—gardening and cooking with my family was my first love. I was born in Lubbock and grew up in Abilene, Texas...right smack in the middle of the state. My father, a history professor, raised me.

My first job was at 15 years old as a busboy at Chili's. Abilene didn't have fancy restaurants; options were pretty limited to the mass market.
F: So you weren't always in the kitchen?
MB: Right! My work has been primarily in the kitchen, but over the years I've been a busboy, server, barback in pubs.
F: But was there a moment when you realized cooking was your passion?
MB: Yes, I remember it well. Fast-forward a few years...I transitioned to Carino's (F: Johnny Carino's?) Yessss! Johnny Carino's! It was there that I took great pleasure in perfecting one of Carino's most delicate dishes, a jalapeño garlic fish dish. I took pride in taking one of the most annoying, difficult dishes and perfecting it the best I possibly could.
That one defining moment for me? When this older couple came in, ordered the fish, and stood up after eating it...and applauded me. I'm a seventeen-year-old kid. They didn't need to do that. But their response to my hard work and self-training fueled my passion.
(Want to make this recipe at home? The Internet is amazing!)
F: When did you move to the Triangle?
MB: I moved here on my 25th birthday! Drove in on my birthday -- I came here to work for a one-year-old restaurant, Gocciolina. (F: we delved into a long conversation about various restaurants and its alumni we've both worked for...)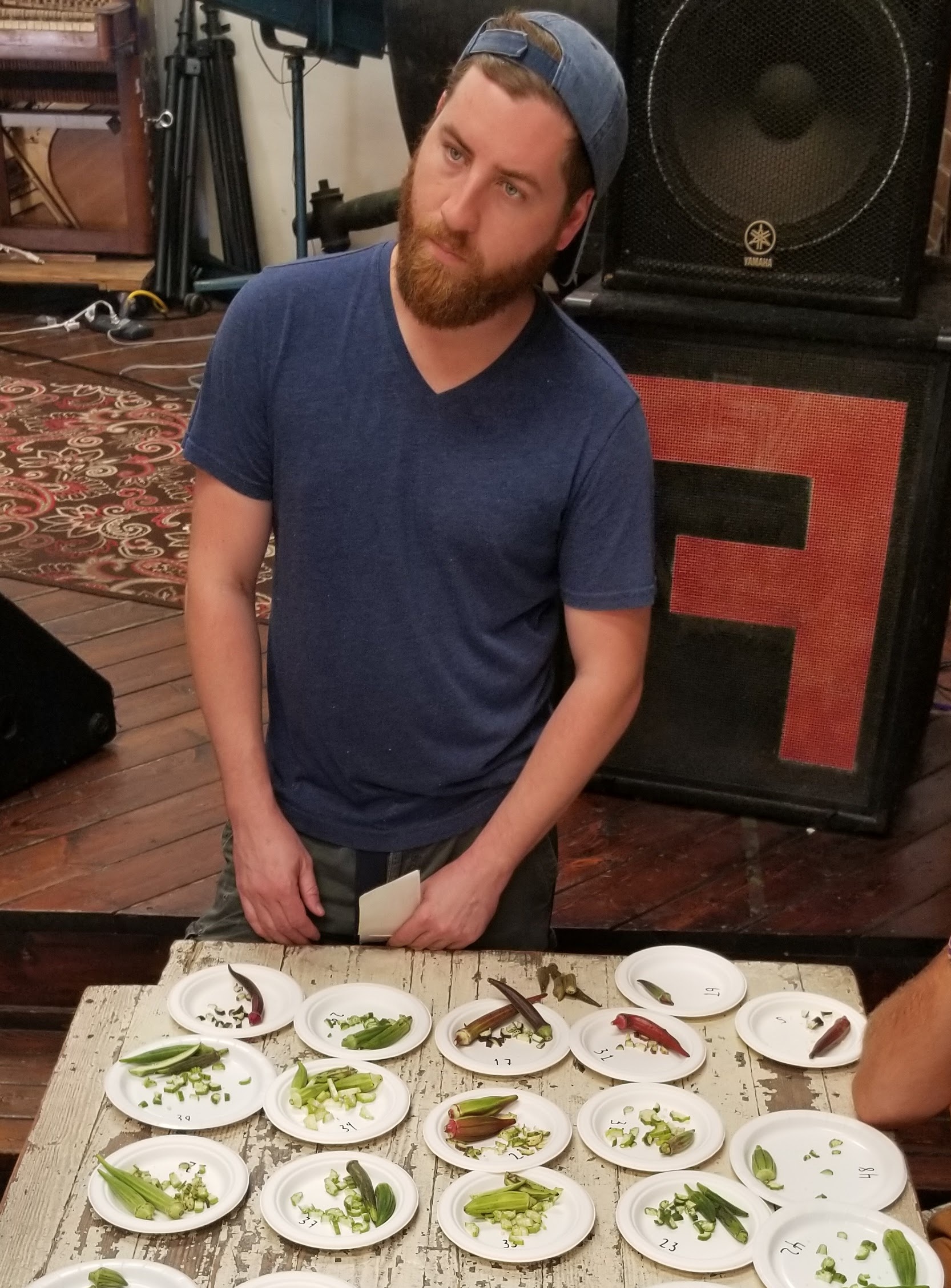 F: How does the Triangle's restaurant scene stack up?
MB: I loved seeing the farm-to-table scene in full display at Gocciolina. I'll never forget this farmer coming in with fresh broccoli. It was sparkling! You never see that level of freshness in central Texas—you'd have to douse that broccoli in cheese and turn it into a soup for Texans to eat it.
I moved here in part to connect with farmers, to build on my love of growing and gardening. Here in Durham, there's just not a level of a pretentiousness in the relationship between farmer and restaurant owner. It's very causal.
And if you don't mind me saying this, one of the things I love about Fullsteam is our Plow-to-Pint ethos, like with our Southern Basil beer.
F: You know that was the first beer we ever brewed?
MB: I did not know that!
F: Yeah, it was going to just be a test batch to test out our system, but it ended up being a big summer hit, so we bring it back every season.
MB: I just don't get why every beer has to be IPA this-and-that. Something I've always respected about Fullsteam is how much we push the local food system.

F: Are we doing enough of that in the kitchen?
MB: We are...though there's always more we can do. Every day I'm trying to learn more and more, always have more fun, and challenging ourselves more. I'd love to see the brewers involve themselves more in the food creation process. What do they want to eat? What food do they like? If you're not getting feedback from the people you're working with, you're missing a golden opportunity.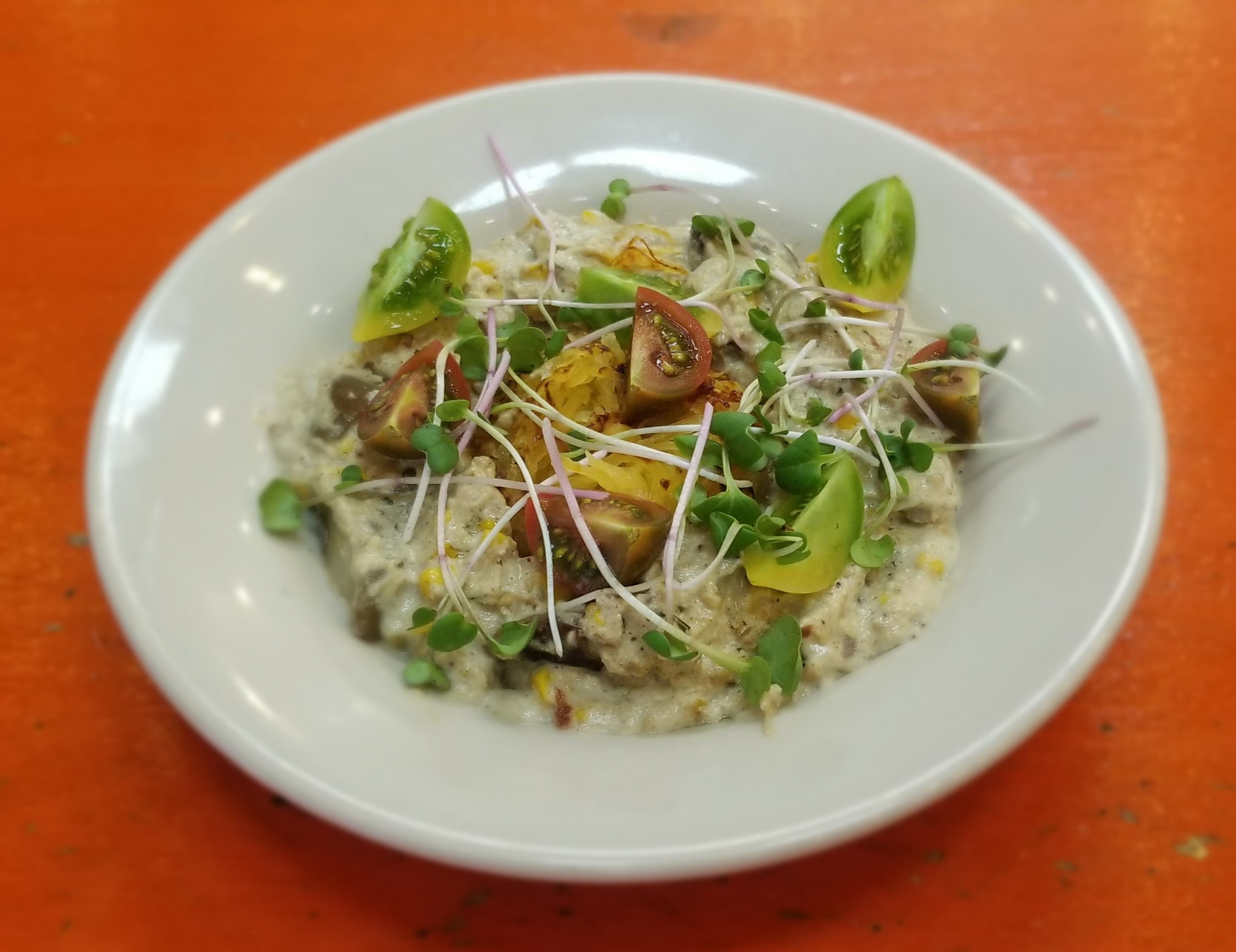 F: What's your niche in the Fullsteam kitchen?
MB: I'm trying to find my own niche and not step on some very experienced toes. That's why I love working on desserts. I'm also a huge fan of fresh pasta...it'd be amazing to make fresh ravioli, tortellini, with the Southern influence in mind, using local ingredients. Let's do it! Come on! (F: this was a very Matt Brown moment)
I also loved making a pork chop dish, where I made a sweet potato / paw paw puree and a paw paw mustard made with our American Promise Paw Paw IPA. That was a super cool dish. I love that we get to work with seasonal, local ingredients...but it's not frou frou.
F: What Fullsteam beer do you like?
MB: Now? As of today? It's the Brett Lager. It's crisp, refreshing, and unique. It's like the paw paw: complex and ever-changing.
F: Best thing on the menu right now?
MB: It's the pickles! Working with farmed ingredients, pickling on our beer. I'm really pleased with how the kitchen team is working together on our pickle project!
F: What song's on repeat for you these days?
MB: The song I was just listening to! Check it out.