Maibock for Houseplants!
Tavern Events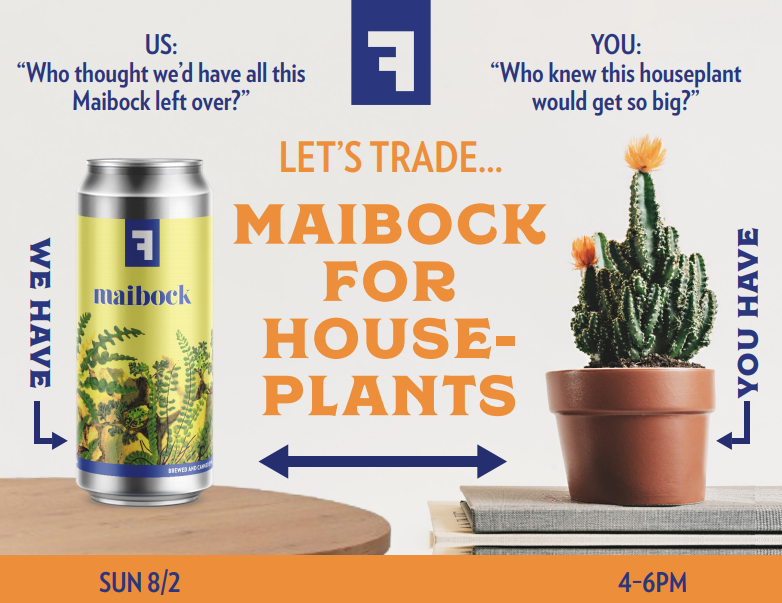 WE HAVE MAIBOCK!
We brewed too much Maibock. It's such a good beer, but we'll be honest with you: our eponymous traditional German springtime lager isn't exactly flying off the shelves. We'd like to run down our inventory while the beer is still fresh.
YOU HAVE HOUSEPLANTS!
Fact! At least for some of you. We're talking plants that need pruning, ferns you're no longer fond of, succulents you think suck. Plants that are healthy enough to survive indoors with modest light and some watering/TLC...greenery you can spare, but that you'd be proud to give Fullsteam to help beautify our space.
LET'S TRADE!
Bring us a healthy houseplant (ideally in a pot) and we'll give you a four-pack of Maibock. Tradesies!
FINE PRINT
There's a chance we can't use your plant (i.e., your definition of "houseplant" is an annual that needs outdoor sun). Don't be sad. We'll let you keep your houseplant and we'll give you a half-pint of Maibock for your troubles for tavern consumption. Our goal is to make this fun and judgement-free.If you have a plant that's worth more than a four-pack of Maibock, let us know: beer4plants@fullsteam.ag. We want to fill our tavern with lowish-maintenance houseplants, and we think it'd be fun to have our community tavern full of community greenery of all sizes.
We hope to see you...socially distanced, masks required, plants welcomed!