Southern Summer Pawpaw Picnic
Tavern Events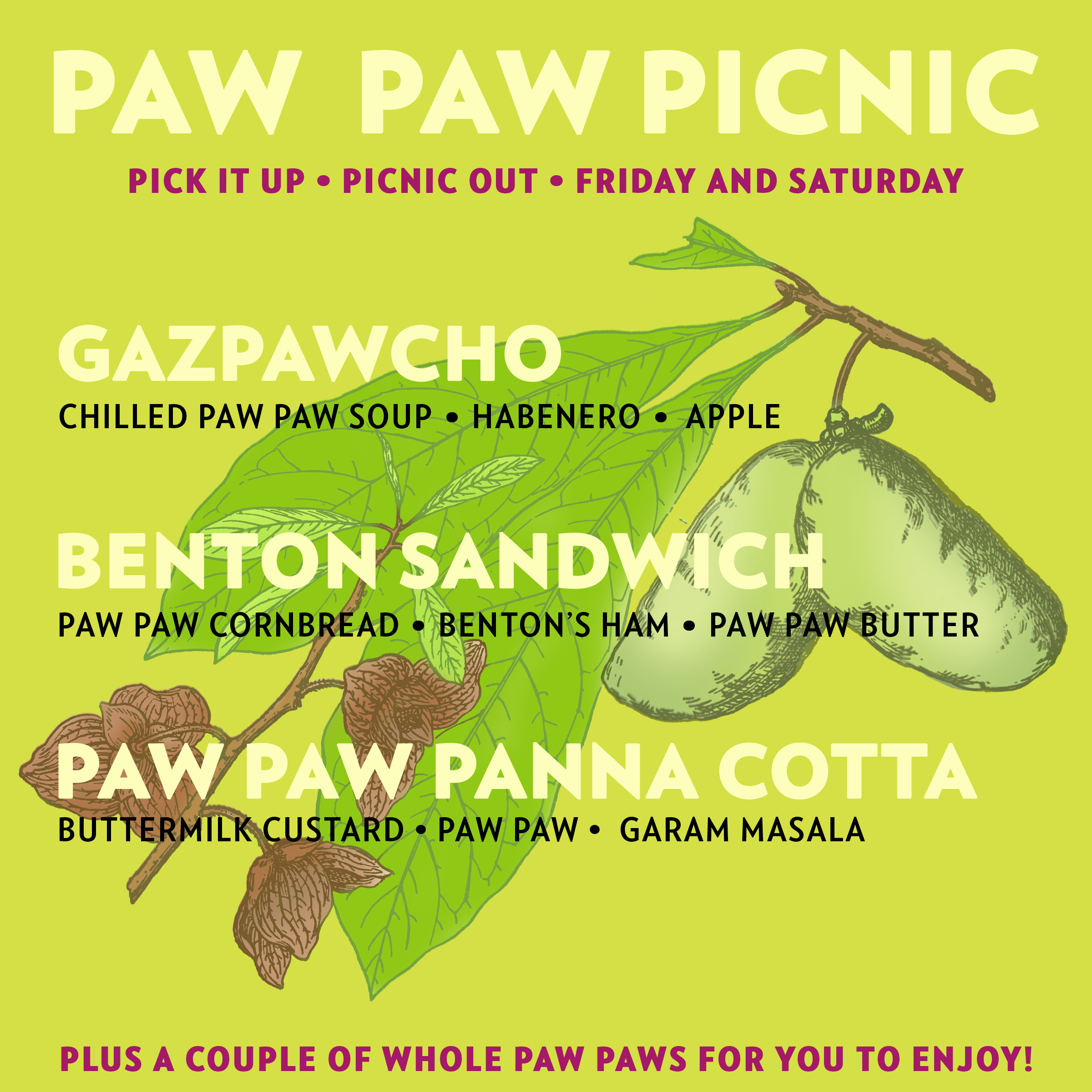 SOLD OUT!
Thanks to your incredible support and interest in the pawpaw, we are sold out of picnics! We can't wait to see you this Friday and Saturday for pick up!
Don't forget to share with us how you enjoyed your Southern Summer Pawpaw Picnic on social media by tagging @Fullsteamdrm!
-------------------------------------------------------------------------------------
Curious about the native pawpaw?
Whether you can't wait for pawpaw season, or this is the first time you've ever heard about the enigmatic wild fruit, we've got a one-of-a-kind treat in store for you.
The kitchen crew at Fullsteam has prepared a pawpaw picnic lunch for you to sample. Enjoy a pawpaw tasting menu -- packaged as a picnic to enjoy on-site or at your favorite picnic location like West Point on the Eno or the North Carolina Museum of Art!
The Pawpaw Picnic Box includes a soup, entrée, and dessert,(vegan optional) each featuring the pawpaw in various culinary expressions. Plus: a big ol' ripe, hand-picked by us Chatham County pawpaw for you to enjoy on its own, or to make your own pawpaw dish!

PRE-PAY AND PICK 'EM UP
Fill out our Southern Summer Pawpaw Picnic form and select how many boxes you'd like (vegan or non). We've included bar staff gratuity, so all you have to do is swing by Fullsteam on Friday, September 10 or Saturday, September 11 between 12 and 9pm. Tell the friendly bartender your last name to receive your paw paw picnic box!
We're way down yonder at 726 Rigsbee Ave., Durham, N.C.
Be sure to share your pawpaw picnic enjoyment with us on social media by tagging @Fullsteamdrm!
WANT MORE PAWPAWS?
Interested in a few pounds of fresh pawpaws? We can do that, too! Here's a separate order form for just pawpaws.

Fullsteam could not produce the American Promise beer without the incredible pawpaw fruit and the land it grows on. Responsible land stewardship and respect for native species guide Fullsteam's mission to power the local southern beer economy. Find out more about our commitment to North Carolina farmers and food producers here.
Friday
September 10, 2021