Sean here! It's been a little while! Many thanks to Amanda for keeping the blog section fun and lively.
Our expansion tanks arrived a few weeks back. Chris and the brewery team did an excellent job of unloading, moving, and erecting (what?) the two 60-barrel fermentation tanks. The tanks remain empty, as they require additional plumbing and electrical work.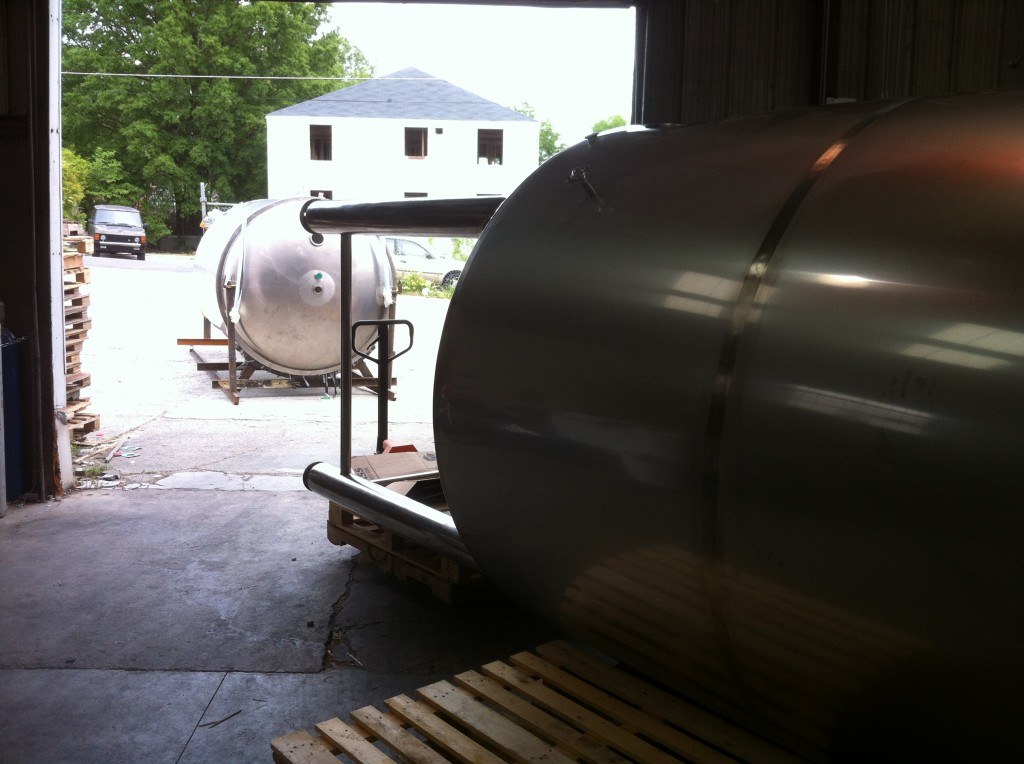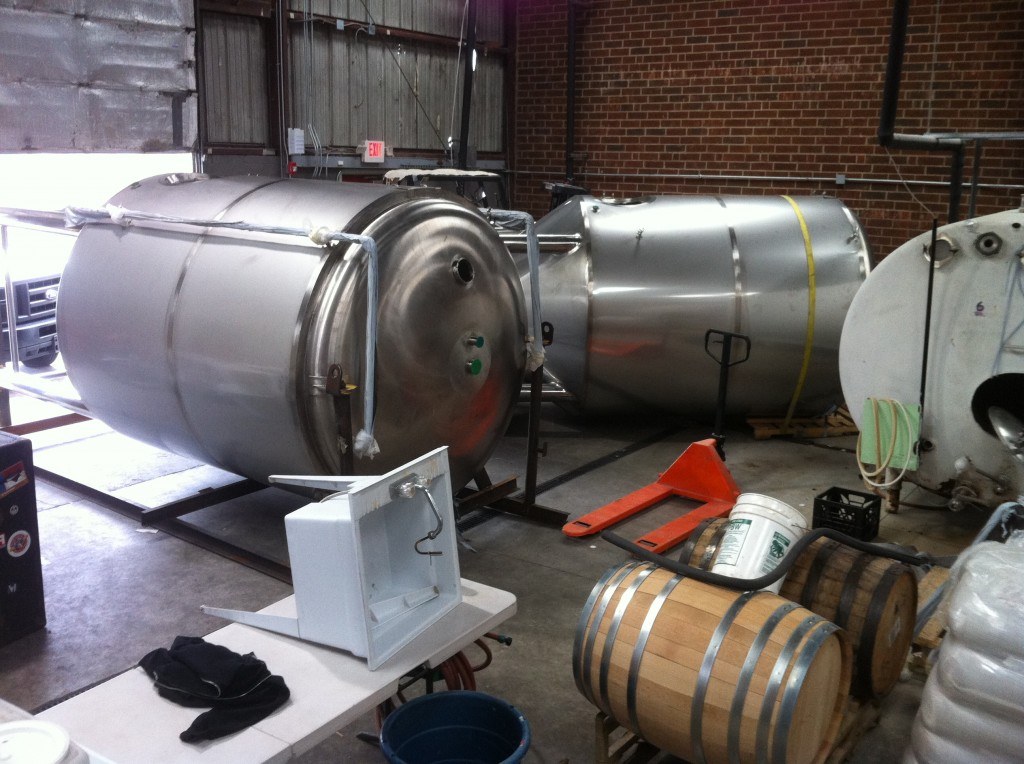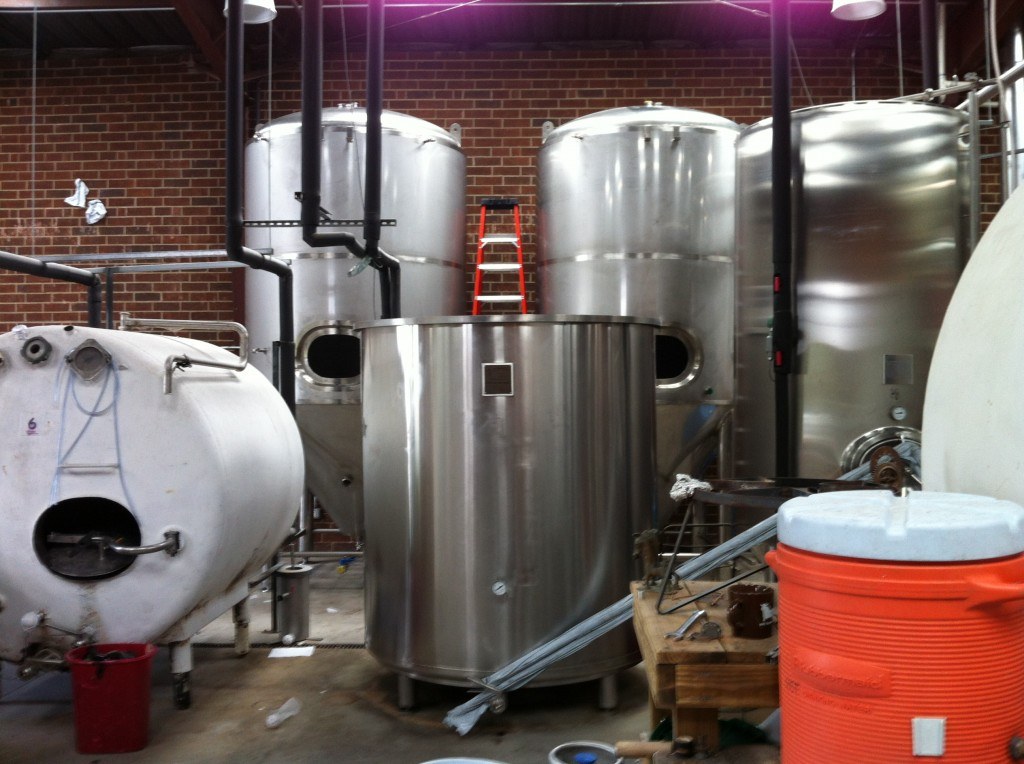 Each 60-barrel tank (background, on either side of the ladder) is twice the size of the fermenter on the right
...and 372 times larger than Chris' orange homebrew bin on the right, where it all started.
We've been very stressed about these tanks. We were supposed to receive them in January, then February, and eventually it eroded to a "they're on their way" conversation. Seven months instead of the estimated three to four month wait. That's the nature of the craft beer business now -- everyone wants infrastructure. Most breweries are bursting at the seams. I'm headed to the Craft Brewers Conference in San Diego later today -- I suspect if I polled the attendees as to what phrase they hear the most, it'd likely be something like "That sounds like a good problem to have."

But it's still a problem. The biggest challenge in growing a brewery is when to time your expansion. Take these two new tanks as an example: we've been paying our loan on them for seven months, and it'll be another month before we have additional capacity. That's eight months of loan payments we have to cover in order to grow the business.
And once the tanks come in, future bottlenecks emerge: cooperage (i.e., kegs). Cold storage. Ingredients. Delivery trucks and personnel. Until the fermentation tanks once again become the bottleneck. It's not impossible; just a balancing act -- mostly between cash on hand, debt, and demand.
It's a good problem to have.
TANKS AREN'T THE ONLY BIG NEWS
In addition to expanding our capacity by around 65%, we recently received our new Meheen Merlin six-head filler! This compact beauty is a great starting system for the craft brewery entering the packaging market.  The Merlin is still in the box -- we first need to install a new grain handling system in the brewery. This will limit the amount of grain dust in the air and ensure that the bottles stay free of contaminants. By the summer, we hope to be bottling our four year-round "Workers' Compensation" beers...El Toro, Carver, Fullsteam, and Working Man's Lunch, as well as Summer Basil and a few surprises.
We'll be starting off with 22oz bombers -- not an unusual first step for the emerging packaging brewery.
MARKET EXPANSION

A 65% increase in capacity. A new bottling line. A couple more sales people. What does it all mean for you, most excellent consumer? First and foremost, it means we'll be building up inventory to ensure we have beer for our current accounts. That's been a challenge for way too long. The new tanks will help immeasurably.
Once we've built up inventory, we'll work to increase beer availability with current (and lapsed) customers. We'll take on a few new ones. And we'll eventually expand into other markets like Charlotte and Charleston.  If you're a restaurant or retailer in the Triangle area and you're interested in our beer, please fill out this form!
THE MISSION

We're unabashed about our mission: we want to be a Landmark Brewery for the South. The challenge is knowing what "landmark" means. We produced 2,000 barrels last year (that's 4,000 kegs). The largest North Carolina brewery (Highland) brews 25,000 barrels; Boston Beer Company brews over 2 million.  According to the Brewers Association, the typical brewery brews around 6,000 barrels (though this number is skewed higher because of a few large craft manufacturers; if anyone can find the median number of barrels brewed, please post below and I'll update this section).
Two years in, I'm increasingly comfortable with "landmark" not being tied to numbers. Our mission is more than producing numbers (to be clear, I'm NOT implying that larger craft breweries are all about the numbers -- most, if not all, large craft breweries have missions well beyond their total barrels produced). We want to craft a Southern Beer Economy. To demonstrate the demand for locally-sourced hops and grains, local malting and milling, and new ventures like NCBREW2U. To build the demand for locally-brewed beer at your favorite restaurant. To encourage Southerners to plant a persimmon tree...or at least know what one is. To have you taste a paw paw fruit at least once in your life. I'd love for you to enjoy our Paw Paw beer, but I care more that you experience a fresh paw paw at its ephemeral peak.
Numbers may drive our ability to do business, but they don't drive our mission. The good earth -- and good people -- drive what we do.