We happen to have two beers with "9" in them ready this Friday. And while both of them are on the tart side, they're quite different, taste-wise.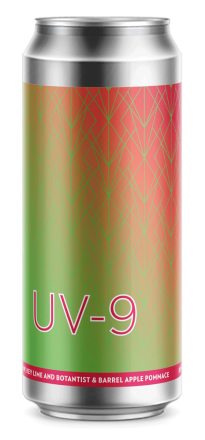 UV-9 (4.4% ABV) continues our exploration of cocktail-inspired sours, this time with the Jack Rose, a foundational cocktail typically made with applejack brandy, grenadine, and lime. Our beer tribute leans into the tart apple (thanks to fresh pressed apples from our friends at Botanist and Barrel) and not-exactly-local lime juice. Lower in alcohol, this is a perfect beer for when the Carolina autumn reminds you that the summer heat wasn't that long ago.
UV-9 flavor profile: tart apple, bright citrus, light, refreshing body.

---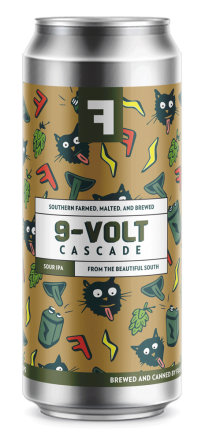 9-VOLT: Cascade (7% ABV) is a fun edition to our hoppy sour 9-VOLT series. Other than some bittering Mangum hops, Cascade hops take center-stage with a bracing grapefruit and pine bite. Many hopped sours, including others in our 9-VOLT series, lean into tropical flavors. But we wanted to lean more into West Coast hops this go-around, going classic in hops yet more modern in the beer style.
9-VOLT flavor profile: bracing cirtus, malt backbone, big mouthfeel.
We'll have both beers on draft and cans for sale to-go. Enjoy both beers in the tavern or on the Vita Mielie on Friday late afternoon!