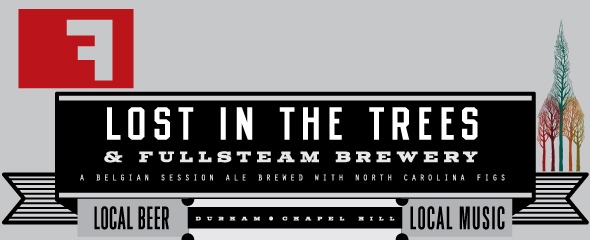 Oh, would you like some awesome?
Fullsteam Brewery and indie collective Lost in the Trees have collaborated on a "local beer / local music" beer, which will debut this Friday, December 3. The beer premieres at Friday's Lost in the Trees concert, hosted by our good neighbors, Motorco Music Hall. Fullsteam will also have the beer on-tap this Friday for those of you goofy enough not to go to the show.
 by Kurt Lightner

The beer, simply called "Lost in the Trees," is a 6% ABV Belgian-inspired session ale brewed with North Carolina figs. This is the first offering in Fullsteam's Forager Collective, a plow-to-pint series of beers brewed with ingredients harvested by the community: locals with backyard fruit trees, fellow foragers who scour the Piedmont for wild ingredients, and a bevy of like-minded farmers and growers (New Grass Gardens, Full of Life Nursery).
Lost in the Trees is a very limited batch of beer. Motorco and Fullsteam each have a keg; the beer will cost $6 for a 15-ounce pour. Continuing the awesome, both venues will be selling Lost in the Trees glassware and a poster signed by both Lost in the Trees and Fullsteam.
This was a true collaboration that took many months to pull off....all for two kegs and one night of amazing music and beer. But it's so worth it. Mostly because it was incredibly fun to work on. We can't wait for Friday. Many, many thanks to the following (in no particular order):
We'll see you Friday. In the meantime, check out the full poster image.