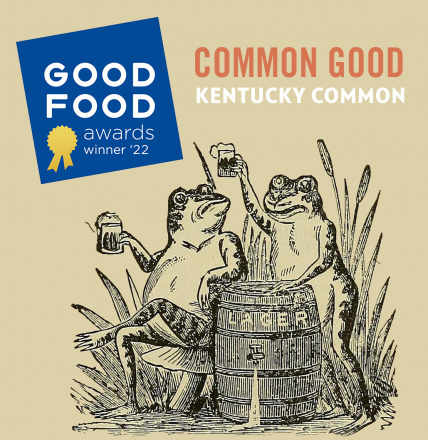 We're thrilled to win our ninth Good Food Award! This year, it's for our Kentucky Common, Common Good. 2022 beer winners include stalwart and innovative breweries like Port City (VA), Firestone Walker, Maine Beer Company, and Vista Brewing (TX).

Fullsteam remains the only North Carolina brewery to win a Good Food Award. With nine wins, Fullsteam joins breweries like Jester King, Almanac, Maine Beer Company, and Port City as the competition's most-recognized breweries.
A SOUTHERN ORIGINAL
Many of you may know that Kentucky Common is one of only a few truly American beer styles (cream ale and steam beer being the others). While it may be a historical style, modern breweries take a lot of liberties in its interpretation.
Even our own efforts brewing Common Good have varied, from sour mashing to adding apples and aging in brandy barrels.
Our most recent -- and now, Good Food Award-winning version -- returns the style to its irrefutable roots: local grain. Riverbend barley and rye and Red Tail Grains bloody butcher grits mimic the grain bill of the bourbon "beer mash." At 4% ABV, it's a crushable Southern Session beer.
And now it's a Good Food Winner!
IN GOOD COMPANY
Almost all the North Carolina winners are Triangle-based -- see below for the full list.
Most years, we follow the Good Food Awards with a showcase of current and past winners and finalists. But it's impossible to pull off a sampling social in the midst of a never-ending pandemic. So instead, please support these businesses committed to making delicious, sustainable, and socially minded food and drink. It makes a difference.

2022 NORTH CAROLINA GOOD FOOD AWARD WINNERS

Pollinator Punch & Garden Sangria Kombucha
Boro Beverage Company, Chapel Hill
Coconut Bliss Bar
Chocolatay Confections, Chapel Hill
Single Origin, 80% Rio Caribe, Venezuela
Escazú Artisan Chocolates, Raleigh
Spanish Town Kitchen Jerk Bacon & Spanish Town Kitchen Jerk Bacon
Lady Edison, Chapel Hill
Strawberry Lemonade Jam
Mrs. Ruth's Jams, Apex
Sweet's Elderberry Shrub
Sweet's Elderberry, Charlotte
Butternut Squash Kimchi
The Spicy Hermit, Durham
Bread & Butter Pickle Chips and Brandied Peach Jam
Valley Brook Farms, Durham
75% Single Origin Dark Chocolate - Dominican Republic, Zorzal
Videri Chocolate Factory, Raleigh

FULLSTEAM'S GOOD FOOD AWARD-WINNING BEERS

2022 Common Good
2021 Pierre Delecto: Pear & Sumac
2020 Farm's Edge: Barrel-Aged Ava
2019 Southern Basil
2018 Farm's Edge: Alexis
2018 Farm's Edge: Brumley Forest
2018 Farm's Edge: Dinnsen's Orchard
2016 Brandy Barrel-Aged First Frost
2013 First Frost