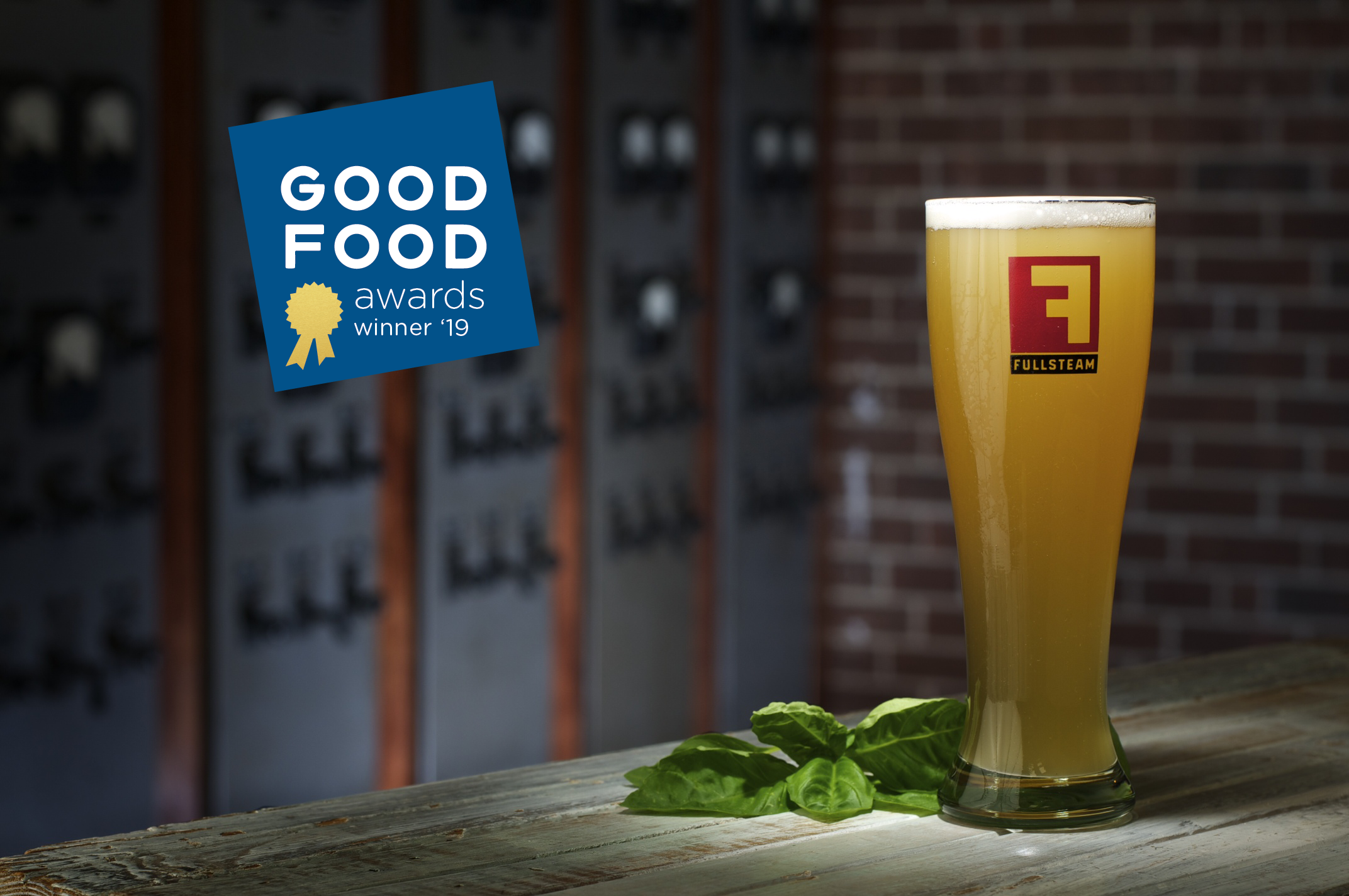 JANUARY 12, 2019
San Francisco, C.A. -- Fullsteam Brewery is thrilled to win a 2019 Good Food Award for our Southern Basil farmhouse ale. This one is special for us, as the beer was the very first beer we brewed on our professional system way back in the summer of 2010. It exists all because of a chance encounter over a decade ago in the backyard of Southern Foodways Alliance's executive director, John T. Edge. At an SFA party, Fullsteam's founding head brewer, Chris Davis, plucked some garden basil to liven up a can of Budweiser. A few leaves (and perhaps a few beers) later, inspiration hit.
At the time, we intended the beer to be a one-time brew, with the goal of testing out our 15hl brewing system. But the resulting beer was an instant crowd favorite. The hot weather, the vibrant punch of basil, that Southern taste of place. So we kept brewing it.
In our eight years brewing this seasonal beer, we've gone from calling it Summer Basil to Southern Basil (the beer is still delicious well beyond summer!). We've purchased thousands of pounds of local wheat, barley, and basil from partners like Granite Springs Farm, Epiphany Craft Malt, Riverbend Malt House, and Copeland Springs Farm. And we've been clear that each batch we brew tastes slightly different. After all, beer is agriculture, and basil varies throughout the season.
We're thrilled for the recognition by both a blind tasting panel and the Good Food Foundation's rigorous standards, where we must demonstrate our commitment to sustainability, fair employee pay and benefits, and community involvement. We're honored to join North Carolina's 2019 winners: Boxcarr Handmade Cheese, Chapel Hill Creamery, Escazu Artisan Chocolates, Videri Chocolate Factory, and Lady Edison Ham -- all friends we've worked with over the years.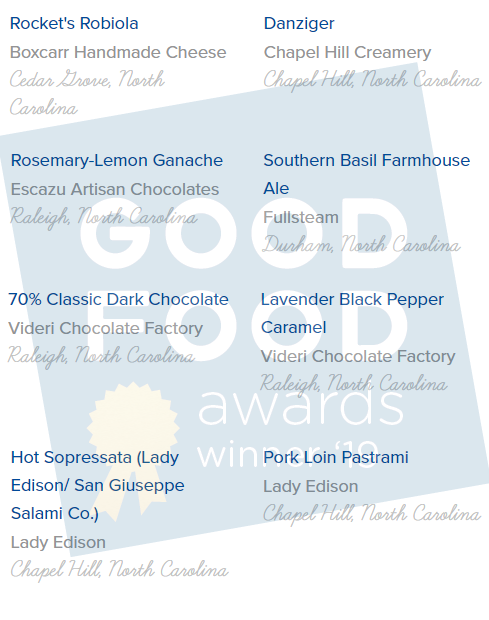 Southern Basil's win is the sixth for Fullsteam, joining five beers in our Farm's Edge series: First Frost (traditional in 2013 and the brandy-barrel aged version in 2016), Alexis (2018), Brumley Forest (2018), and Dinnsen's Orchard (2018). Fullsteam is the only North Carolina brewery to win a Good Food Award since its inception.

Hopefully that will change soon. We love the uniqueness of being the only North Carolina brewery to receive this recognition, but candidly, we want more of our peers to involve themselves with the Good Food Foundation and its mission.
For now, we invite you to celebrate North Carolina's Good Food Award finalists and winners -- past and present -- at our N.C. Good Food Award Showcase on Saturday, January 26th from 2 to 6pm. Sample and buy from fifteen North Carolina food- and drink-focused small businesses, all committed to social, environmental, and community good. It's one of our favorite events of the year.
We'll even have cans, six-packs, and cases of Southern Basil available for sale at a special price ($8/six-pack and $25/case). The beer is tasting wonderful these days, if a little less punchy on the basil. We hope it will remind you of the warm weather to come...and how good things can come from one small sprig.